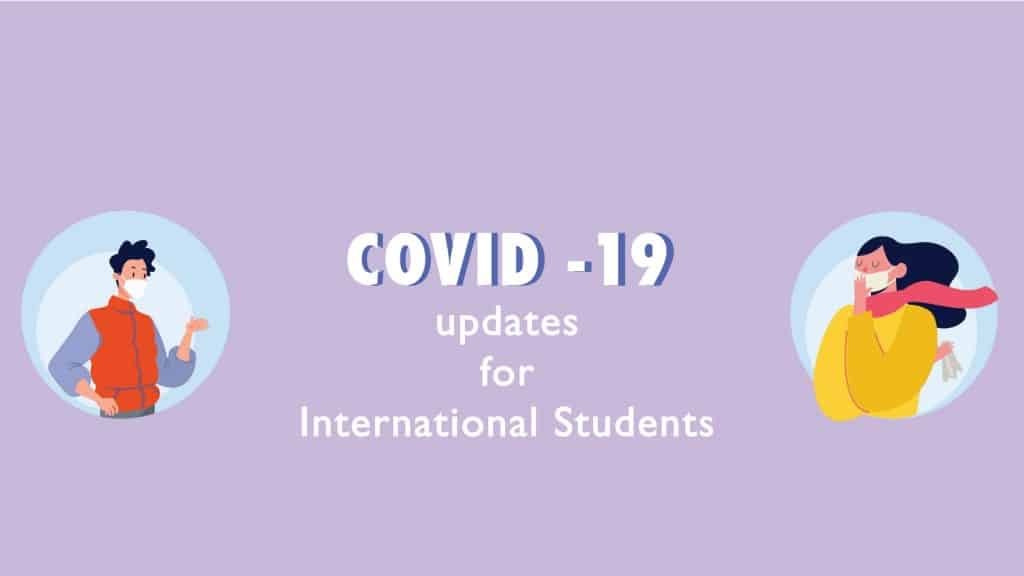 Covid-19 Update for International Students
It has been a tough couple of months across the world. As of now, Thailand's government has imposed a partial lockdown in order to curb the impact of the virus.
We are all following the necessary precautions and AECC Global, as a leading educational consultancy, is working to guide you. We care for students' health and lives as well as for their future.
With travel bans being implemented and institutions shifting to online classes, students are concerned over their visa applications, work, studies and whether to go home or not. We have compiled the necessary information addressing these concerns.
Countries across the globe have taken measures in order to support international students. There have been Covid updates from top study destinations: The U.K, The U.S.A, Australia, Canada and New Zealand.
Read on to find out more.
1. The United Kingdom
The U.K government has taken serious steps in curbing the spread of this corona disease. People across the nation are required to maintain social distancing with clubs, theaters, cinemas, pubs etc., being shut down.
Good thing is you can go out for a walk while maintaining a 2-meter distance from each other. This helps beat sitting at home for long periods of time.
If you are among the ones who didn't book a flight back home, not to worry. The United Kingdom Visas and Immigration (UKVI) have set a team to issue extensions of visas for those students whose visas are going to expire. It is set to extend till the 31st of May.
All you need to do is send the team an email: This email address is being protected from spambots. You need JavaScript enabled to view it. informing them about your visa expiration and you will be issued with further extension.
Moreover, according to Universities UK, students will be supported on accommodation as well. 
If a student already has accommodation, they will be supported to sustain themselves. And, those without accommodation will be designated one.
With classes adapting the online structure, the government is doing its best to ensure students (including international students) don't have to take a back seat in their careers. 
As a matter of fact, the University of Oxbridge, is planning to replace summer exams with online assessments. This decision has been taken after students from the University of Cambridge, Oxford and the UCL have requested to retake the final year.
Also, the University of Oxbridge has joined Durham University's decision to shift to online assessments.
With the scenario seeming to take some shape, students are getting innovative with ideas to go through with this ordeal. With petitions being signed, requesting for optional coursework, we can only wait and see how the curve is going to be flattened in the near future.
Your go to contact for help: UKCISA – U.K Council for International Student Affairs – +4420 7788 9214 between 1.00pm and 4.00pm (UK time) between Monday and Friday. You can even contact your respective institution.
For any other clarifications on visa, please refer to the Government's statements on visa and immigration here or the UKVI.
2. The United States of America
With the borders officially closed for traveling, the Department of Homeland Security (DHS) has confirmed that international students can take classes online. This will not affect their visa statuses.
Moreover, NAFSA –Association of International Educators – have requested the Department of Homeland Security to issue an SSR– a Special Student relief. An SSR is your security blanket in times of crisis. This has been issued before as well.
Regarding students who have applied for an Optional Practical Training (OPT), there is confusion amongst students as to whether to stay back in the U.S. or leave for home (as their presence is required in the U.S in order to be offered the OPT).
Hopefully, Kent University is right by requesting students to stay in the U.S if they want to apply for an OPT.
It would be best to contact your Institution for more information. However, NAFSA has taken the front foot again and has actually written a letter to the DHS. They have requested that the state of unemployment for students to not be considered to their OPT unemployment units during the COVID-19 emergency. This is among other things that NAFSA has addressed.
All in all, although the Covid-19 situation is at its peak in the U.S.A, with organizations like the NAFSA and the DHS, there seems to be a security and hope for international students.

For any advice related to the pandemic, please contact Centers for Disease Control and Prevention: 800-232-4636. 
For any more advice, you can contact The EducationUSA Advice Center here.
You can even contact the nearest Embassy or your institution.
3. Australia
The Prime Minister's announcement requesting international students who have not been in Australia for more than a year came as a shock to many. Also, the banning of travel to and from Australia was followed from Friday, the 27th of March. 
However, there is a silver lining. Those international students who have been in Australia for more than one year and in financial hardships due to the pandemic can access their superannuation. 
A superannuation are pension program funds and this is one way to sustain yourselves while in Australia. Applications for superannuation will be accepted via the Government site.
The Government is being flexible though, regarding those students who have been impacted by the Covid-19 virus and hence, could not meet visa conditions such as attending classes.
To sustain yourselves financially, the Australian government has made it possible for those with student visas to work 40 hours a fortnight in supermarkets from May 1st. Apparently, the country needs more people to stock up shelves in supermarkets.
As a matter of fact, there are 20,000 international student nurses who are requested to join the workforce to abate the impact of the covid-19 virus.
There are additional efforts being made to support international students, including those students enrolled in ELICOS. 
The Queensland International Education and Training Advisory Group has written a letter to the Prime Minister proposing a National Hardship Fund.
For Covid-19 related help, you can contact: 1800 020 080. For emergencies, please add 000.
For student support, please contact: (+61) 1300 981 621. Mon – Fri. 9 am – 5 pm AEDT.
For information on your visa application status, please contact the Homeaffairs government. You can also directly check your visa status here.
4. Canada
With the knowledge and importance of international students to Canada, according to the Universities Canada, the Canadian government is making a major concession for international students.
International students with a study permit prior to March 18th, will be allowed to enter the country. Of course assistance will have to be provided by the institutions for accommodation and transportation during the 14-day period of isolation.
The Federal government has taken further measures to help ease the financial burden off of students due to the Covid-19 pandemic.  A moratorium has been set on student loans for six months with no interest.
As per ICEF Monitor, those students whose employment has been interrupted due to the pandemic impact, may also be eligible for emergency funding assistance.
You can contact the Immigration, Refugees and Citizenship Canada (IRCC), from within Canada. The IRCC call center is open from Monday to Friday, 8 am to 4 pm local time. Number is: 1-888-242-2100
You can even contact the Center for Canadian International Student Services (CCISS) at 
1-855-484-1881 (free).
5. New Zealand
With Alert Level 4 being issued, students are prohibited from traveling. There may be a compromise in the case of repatriation flights. You will be noted if this is the case.
Due to the Covid-19 pandemic, classes have shifted from personal to an online structure. Moreover, the government has taken immediate measures for international students regarding concerns over visas, accommodation and other essentials.
Holders of student visas which expire before 1st of April 2020, are asked to apply for a new visa. They will be issued an interim visa. 
If the visa expires between April 2nd to July 9th, 2020, the dates will be extended to 25th September 2020 until further notice. 
Students are requested to contact their respective institutions for any further information regarding classes. Online attendance will be taken into consideration. 
The government has also requested education providers to provide international students suitable accommodation and other arrangements if required.
For accommodation related queries please contact your Institution or the Tertiary Education Commission on 0800 123 797 Monday to Friday.
The Ministry of Education office near you, is also available for consultation.
Let us work together and do our part!
During this time, let us all come together with the aim to curb the spread of the pandemic. We are not new to challenges and I am sure we will come out of this stronger than before.
Take a deep breath, be precautious, wash your hands, maintain social distance and let us consistently do our part while we look forward to the future. 
For more information or guidance on the educational situation abroad, please feel free to contact us anytime.  
---
By accepting you will be accessing a service provided by a third-party external to https://www.aeccglobal.co.th/