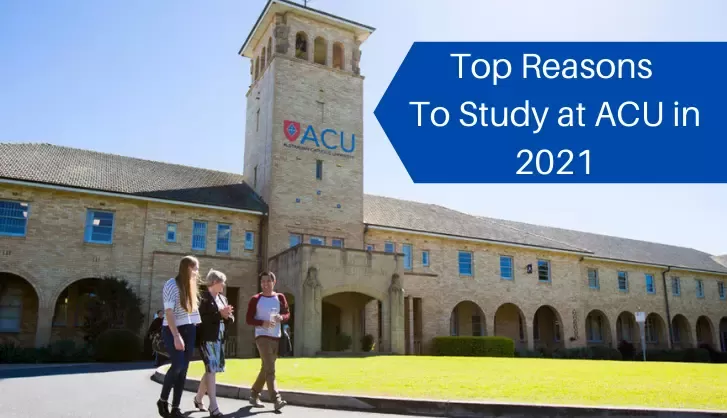 Top Reasons To Study At Australian Catholic University In 2021
Over the past two decades, Australia has gained high popularity among international students as one of their first choices to study in. It is largely due to the fact that their pursuit of a bright career and high quality of life successfully bears fruit in Australia. Along with the economic factors that favour immigration, the advent of young universities is another major reason why the international education ecosystem has been flourishing in Australia.
These universities, over the last few decades, brought to Australia the best practices from the leading universities of the world and continuously evolved themselves to the needs of the students and industry. Their focus on innovation in teaching and learning, industry co-designed curriculum and the ability to quickly bring great ideas into action result in the production of competent job-ready graduates. This is precisely what every international student dreams to be. Australian Catholic University is one such institution that takes pride in having fulfilled the dreams of hundreds of thousands of international students
Australian Catholic University
ACU, inaugurated in 1991 as a public university, is an amalgamation of four catholic institutions which had been educating Australia since the mid 1800s. Today, the university has eight magnificent campuses in Australia and one international campus in Rome. In these three decades, ACU has been providing meaningful education that transforms young minds into quality graduates and better humans. Catholic values form a strong base to the institution's mission. The institute has campuses in Adelaide, Ballarat, Brisbane, Canberra, Melbourne, North Sydney and Strathfield and a new campus is opening to students in Blacktown from 2021. Across these campuses, 34,834 students study their undergraduate and postgraduate degrees under four major disciplines. This student population includes 4,601 international students from 103 countries which makes the community truly diverse and vibrant.
The institution offers hundreds of courses categorized under four major faculties: Education and Arts, Health Sciences, Law and Business, Theology and Philosophy for international students to study in Australia. Ranked in the top 40 of Generation Y universities, ACU stands out by offering a curriculum that integrates knowledge and humanity. ACU has a stunning network of 100,000 alumni that includes renowned leaders in politics, business, sports and technology. Matt Burke - Australian Rugby Union player, Martin Dixon - Victorian State minister, Melina Marchetta - best selling author of the book "Looking for Alibrandi" are a few of the many illustrious alumni.
Ranks, Awards and Accolades of ACU you should know
Ranked 1st in Australia for graduate employment with 91% of its graduates employed overall (Graduate employment survey - Longitudinal 2020
Postgraduate employment rate is 98.6% - the highest in Australia ( GOS 2020)
Ranked in the top 2% of universities in the world
Ranked 70th among the young universities of the world (THE rankings 2021)
18th best university in Australia (THE rankings 2021)
One of the top 10 catholic universities in the world
Ranked in the top 80 Asia-pacific universities
In the top 75 world universities in the field of education
Top Courses To Study At ACU In 2021
With only a month to go for the new year, the international education scene in Australia is already lit. In the top universities, a lot of exciting courses open up for Semester 1 of 2021 intake and applications for those courses are piling up. Among this competition, it is important to pick the right combination of course and institute and apply at the earliest. Having said this, at ACU, whether you are looking for an undergraduate course or a postgraduate course, the options are enormous. You can avail hefty scholarships and pursue a globally recognized degree this year. Of all these courses, here are two popular courses that international students show high interest in and why you should consider too.
Master of Information Technology
The Australian Computer Society accredited MIT program at ACU equips students to join the workforce as the most sought-after professionals. In the two year program, students will acquire in-depth knowledge in the leading areas of ICT. Business analytics, Cybersecurity, Data science, Web and mobile applications development are the subjects that majorly comprise this program. The syllabus is well in sync with the requirements of today's IT industry and internships and industry placements are a part of the course. The global tech-giant Cisco provides a 10-week mentoring program to the students of this program. Teaching faculties are experts with industry experience and the masters project is completely industry based.
On successful completion of the course, the career options are quite plenty in these areas
Cyber Security Analyst
Data Analyst/Scientist
Business Analyst
Software Programmer
Web Developer
Mobile App Developer
Database administrator
IT consultant and project manager
IT trainer or educator
Network manager
Technical and network support professional
Education (UG & PG programs)
Whether you dream to be a teacher or play a leadership role in the education industry, a strong academic background in education is crucial. ACU exactly caters the same to international students who aspire to be impactful contributors to the education industry. ACU offers undergraduate and postgraduate programs in education in multiple specializations. ACU students undergo practical training at different schools settings where they work with children of various age groups and learn. This hands-on learning goes hand in hand with the strong theoretical knowledge the course provides. Hence, after graduation, you step out of the campus as a confident teacher with sound career prospects anywhere in the world. The highlight of teaching programs at ACU is the supervised professional experience being an integral part of the course in which the faculty will find appropriate placements. You spend around 80 days to 110 days of professional experience in a structured supervised setting throughout your undergraduate studies.
The undergraduate programs include
Bachelor of Early Childhood Education (Birth to Five Years)
Bachelor of Education (Early Childhood and Primary)
Bachelor of Education (Primary and Special Education )
Bachelor of Education (Primary and Secondary)
Bachelor of Education (Secondary)
Bachelor of Education (Secondary and Special Education)
The postgraduate programs offers
Master of Education
Master of Educational Leadership
Master of Teaching (Primary)
Master of Teaching (Secondary)
All these courses are accredited by the Australian Institute of Teaching and School Leadership. After graduation, you become eligible to register as a primary or secondary teacher and be able to take up jobs across all the states and territories of Australia.
ACU maintains a record rate of employment of its teaching graduates.
84% of Early Childhood and Primary Teaching students and 87% of primary teaching students are employed full-time within 4 months of graduating as per the Graduate Outcomes survey of Quality Indicators for Learning and Teaching (QILT) in 2019.
If teaching and impacting children positively is your calling, ACU is one of the best places in Australia to begin your journey at.
Scholarships For International Students At ACU in 2021
ACU encourages meritorious international students to study with them by offering scholarships to offset financial barriers. Here are the scholarships you can receive when you join a course in the first semester of 2021.
Global Excellence Scholarship - This scholarship waives $2,500 off your tuition fee per semester to eligible students of all undergraduate and postgraduate programs.
ACU international scholarship - For meritorious students with a score of at least 80% in their previous study and fulfil the other criteria of this scholarship can get half of their course fee waived off.
Allianz Global Assistance Scholarship - For one undergraduate and one postgraduate student, this scholarship covers up to $7,500 per semester.
Along with these scholarships, you can apply for government scholarships and other external fundings which can make your dream education totally affordable. Consult with our expert education agents to learn your scholarship options better.
Let Your Dreams Come True In 2021 With ACU
2020 has taught the world many lessons. It emphasized the importance of empathy and kindness among humans of this technological era. ACU's mission has been the same ever since its inception. Empowering the students to utilize their knowledge for the betterment of society has been its goal and their track records shows how successful they are in this journey. So, if you aspire to start a new path in 2021 in a similar direction, ACU is one of the right places for you. Study at ACU, enrich yourself with knowledge and industry exposure in your chosen domain and pursue a fulfilling career in all aspects.

AECC Global has been one of the esteemed international education partners of ACU. Our team of expert education consultants can guide you through the whole application and admission process. By taking their help, you accelerate your application and your chances of getting accepted at ACU improves. AECC Global enjoys long-term relationships with most of its international student clients who return for visa and migration services after their student days. If you also need a similar holistic planning to be done for your career, talk to us today and make it all easy and simple.
---
By accepting you will be accessing a service provided by a third-party external to https://www.aeccglobal.co.th/