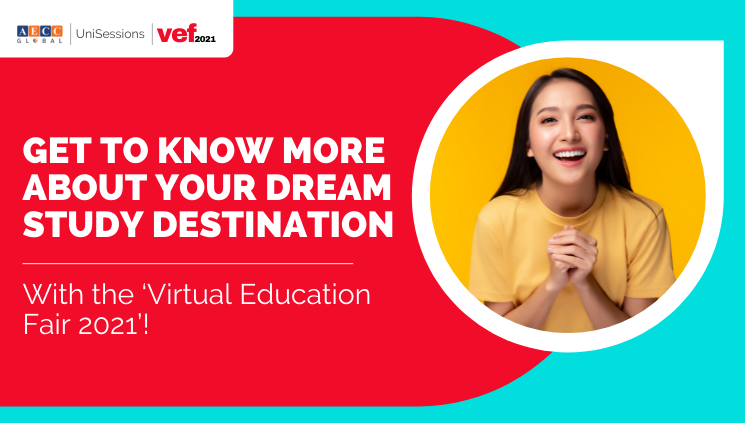 Get to know more about your dream study destination with the 'Virtual Education Fair 2021'!
2 days. 4 study destinations. 10+ universities. 1 online platform.
A million opportunities. Are you ready to attend VEF 2021?
Are you a student pursuing higher secondary education, an undergraduate or postgraduate degree, or a working adult wishing to study abroad? Here's an amazing chance to explore 10+ internationally acclaimed universities from 4 destinations such as Australia, the United Kingdom, Canada, and New Zealand, all under one roof.
Our two day Virtual Education Fair is here! This is a free event and is happening on November 27th and 28th, 2021. This event has been specially organised for you to unlock the doors to a million opportunities that will make your study abroad dreams a reality!
As a registered applicant, when you enter the online fair, you can at ease hit the meet now button at any of your preferred university booths, or connect with multiple university representatives one after the other.
Steps to Register and Attend the Virtual Education Fair 2021
Register for the event.
You will receive a confirmation email from us about the event schedule.
You will also receive an event access link via your email/SMS.
Once you click on the link given, you will be redirected to the event page.
You can attend the Virtual Fair from either your desktop/laptop/mobile through firefox or chrome.
You must enable your camera and mic to join the table.
You will be taken to the virtual meeting space, where you can find all the participating universities.
Click on the "Join" button of your preferred university.
You can then attend the live session and interact with our counsellors and university representatives.
Once the event is over, our consultants will get in touch with you to take your application processes forward.
Virtual Education Fair Schedule
DATE

UNIVERSITY

DESTINATIONS

27/11/2021

Swinburne University

The University of Western Australia

Macquarie University

Victoria University

University of Adelaide

University of Adelaide College

Torrens University

The University of New South Wales

University of Auckland




Australia & New Zealand

28/11/2021

University of Essex

De Montfort University

Study Group

University of Portsmouth

Northumbria University

University Canada West

United Kingdom, & Canada
Why wait when you can find answers to all your questions about studying abroad at one stop? Hurry up! Register now for the Virtual Education Fair (VEF 2021) and take the next step to fly to your favourite study destination!
---
By accepting you will be accessing a service provided by a third-party external to https://www.aeccglobal.co.th/