Authorised Representative of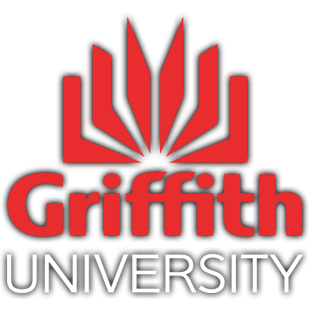 BE REMARKABLE
Top 2% of universities globally

CRICOS Provider - 00233E
The university that celebrates the remarkable!
Griffith University is one of the top providers of higher education in the Asia-Pacific, thanks to its reputation for research and teaching excellence, as well as strong ties to industry.
Ranked among the top 2% of universities worldwide, Griffith University's teaching and research spans across six campuses in South East Queensland and all disciplines. 
The university is committed to producing exceptional graduates. Degrees at the university cover a broad variety of subjects and are driven by world-class research and industry links.
Why Griffith University ?
Degrees have an international focus, preparing you for work almost anywhere in the world. 

Innovative teaching and learning.

Award-winning teaching team.

Learning spaces that inspire creativity, promote collaboration and encourage innovation.

Vibrant research culture and the chance to study alongside globally renowned researchers.

Digital Campus
The vibrant Digital campus at Griffith offers you a very flexible and supportive environment in which to fit university into your schedule. More than 100 degrees are available on campus, full-time or part-time, totally online or with some on-campus hours. You have complete control over your learning, so you may tailor your study experience to your specific requirements.

Gold Coast Campus
Griffith's world-class Gold Coast campus is home to 21,000 students and is located within walking distance of Southport's cutting-edge Health and Knowledge Precinct, which includes the Gold Coast University Hospital. Teaching and research at Griffith's main campus span practically all subject disciplines, with a particular focus on medicine, dentistry, and health.

Logan Campus
The campus, located in Queensland's rapidly growing third-largest city, has strong ties to the local community, organising a variety of sporting and cultural activities throughout the year. The campus is also a leader in flexible learning opportunities, with a variety of degree programs available to prospective students.

Mt Gravatt Campus
The Mt Gravatt campus, which has over 4,000 students, draws on a long history of progressive thinking and learning to provide high-quality teaching and research in criminology and criminal justice, education, psychology, and other socially centred subjects including suicide prevention.

Nathan Campus
Nathan campus, Griffith's most historic learning ground, is home to world-class teaching and research in environmental science, corporate sustainability, Asian studies, and emerging biosciences. More than 13,000 students are enrolled on the campus, studying business and government, engineering and information technology, the environment, humanities and languages, law, and science and aviation.

South Bank Campus
With a student population of 3,400, the campus houses the Queensland College of Art, the Queensland Conservatorium, the Griffith Graduate Centre, and the Griffith Film School. Students have access to cutting-edge facilities and lecturers who are at the forefront of their fields.
Griffith University's Bachelor of Business is a new degree, different from conventional business degrees.  It combines new skills, new values, and new opportunities relevant for the new economy. Modern business practices of adaptivity, creativity, diversity and sustainable business are ingrained in the new degree.
Griffith University's Business school specialize in:
Accounting (Extended)

Asian Business (Extended)

Asian Engagement

Behavioural Science

Business Analytics

Economics

Employment Relations

Event Management

Finance

Financial Planning (Extended)

Government and International Relations

Human Resource Management

Innovation and Entrepreneurship

International Business (Extended)

Logistics and Supply Chain Management

Management

Marketing

Real Estate and Property Development

Sport Management

Sustainable Business

Taxation

Tourism Management
Course Duration:3 Years
Fees: 

$30500*

/year Entry Requirements: IELTS(Academic)6.5
*an indicative fee only
MASTER OF BUSINESS ADMINISTRATION
BACHELOR OF ENGINEERING (Honours)
Griffith's engineering degrees provide you with the opportunity to be at the forefront in the engineering sector. 
The degree helps you to develop a strong foundation in basic science and engineering principles in a range of engineering areas.
Griffith University's Engineering school specialize in:
Civil Engineering 

Electronic Engineering 

Electronic and Energy Engineering 

Electronic and UAV Engineering 

Electrical and Electronic Engineering 

Environmental Engineering 

Mechatronics 

Mechanical Engineering
Course Duration:4 Years
Fees:

$38000*

 /year Entry Requirements: IELTS(Academic)6.5
*an indicative fee only
MASTER OF PROFESSIONAL ENGINEERING
With this degree,  you can specialize in all study areas of science before specializing in your choice of major. Students can choose to decide what interests them the most. 
Griffith University's Science school specialize in:
Applied Mathematics

Biosciences

Chemistry

Data Science 

Geography

Marine Biology

Physics

Wildlife Biology
Course Duration:3 Years
Fees:

$35500*

 /year Entry Requirements: IELTS(Academic)6.5
*an indicative fee only

International Student Academic Merit Scholarship  (covers 20% of tuition fees)




International Student Academic Excellence Scholarship (covers 25% of tuition fees)



Griffith Remarkable Scholarship (covers 50% of tuition fees)