Representative of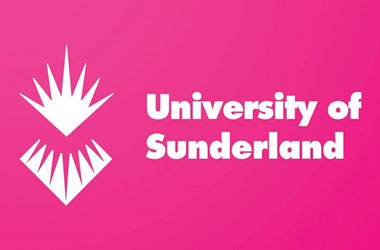 #77 Overall Ranking in UK
The Times and Sunday Times Good University Guide 2022
The life changing University of Sunderland has 20,000 students based in campuses on the North East coast, in London and Hong Kong and at its global partnerships with learning institutions in 15 countries. University of Sunderland is proud of their long-established commitment to widening participation, Sunderland's world-leading research, public and private sector collaborations and Sunderland's track-record for providing quality student experiences that result in graduates who are the tomorrow-makers of the societies and economies.
In March 2018, Sunderland were successful in the bid to open a new School of Medicine. With a track-record of excellence in medical education spanning almost 100 years, the University is now well-placed to address the chronic shortage of doctors in the North East. We were also delighted to be ranked 16th (out of 131 universities) in the "University of the Year" category of the Whatuni Student Choice Awards 2019, the only national awards voted for by students.
sunderland's Subjects Ranking
(Guardian University League 2021)
#13 Counselling
#21 Health Studies
#30 Biological Science
#30 Childhood & Youth Studies
#31 Pharmacy & Pharmacology
#32 Physiotherapy
#37 Art & Design
#43 Biomedical Science
#49 Music
#68 Mechanical Engineering
#74 Marketing
#79 Sport Sciences
#97 Law
#115 Business Management
Bachelor of Cosmetic Science
Duration: 3 years (or add 1 year Foundation or Optional Placement). Fees: £12,000 per year Intakes: September
This course introduces relevant aspects of chemistry, physiology and dermatology as well as the regulatory marketing and business framework for cosmetics. You'll also be introduced to the principles of formulation, with an emphasis on those related to cosmetics. During the second year, you will undertake a more in-depth exploration of formulation, dermatology and professional practice in the cosmetic industry. This will include the importance of colour in these formulations and the differences between industrial and lab scale manufacture. The final year culminates in a science-led project that can be tailored to your interests. Through the project you will demonstrate your capacity to address a particular issue in a rigorous, research-enabled way. The project can be linked to your placement or other work experience, making it a useful way of catching the attention of potential employers.
Why Sunderland
Make extensive use of the advanced technology and laboratory infrastructure in our Sciences Complex
We encourage you to apply for an optional 1-year placement between year 2 and 3
The University has over 100 years of expertise in teaching science
Teaching at Sunderland is kept fully up-to-date through our strong links with employers who help guide the content of the course
A unique curriculum which captures all aspects of Cosmetic Science
Career options
As a Cosmetic Science graduate, you'll have a wide range of employment options in the cosmetic and related pharmaceutical industries. Cosmetic scientists can earn starting salaries of around £20,000, moving up to over £50,000 a year for senior chemist and R&D managerial roles. You could also explore positions in business, sales and marketing. With the sector thriving in the UK, cosmetic science is a great area to qualify in for those that want creative and diverse career options in science.
Master of Cosmetic Science
MPharm | Master of Pharmacy
Duration: 4 years Fees: £12,000 per year Intakes: September
Our highly-regarded Pharmacy course begins with a broad overview of the fundamental pharmaceutical and biological sciences. You will develop more specialised knowledge and skills in medicinal chemistry, pharmaceutics, therapeutics, clinical management and patient-focused clinical skills. The course lasts four years and you will graduate as a Master of Pharmacy. The MPharm is the only undergraduate qualification in the UK which leads to professional registration as a pharmacist.
Why Sunderland
General Pharmaceutical Council (GPhC) figures show that the University of Sunderland is consistently one of the top-ranking Schools of Pharmacy in the National Registration Assessment. The pass rate in 2019 was 89.82% which is significantly above the national average of 72.33% 97.5% of MPharm
Pharmacy graduates are in graduate-level employment, further study or training within six months of graduating, according to DLHE 2016/17 (based on full-time, first degree, home leavers)
Pharmacy has been taught at Sunderland for almost 100 years and we have a strong reputation as a Pharmacy School that produces successful graduates
This course has over 90% Overall Satisfaction according to the National Student Survey 2018
Patient contact is embedded throughout the course alongside placements and interprofessional learning opportunities
All our pharmacist academics are at the forefront of current practice as they continue to work with regional trusts and pharmacy employers. This means you have direct links to employers and the most up to date clinical teaching
Research in Pharmacy at Sunderland has been described as 'world-leading' by the latest Research Excellence Framework
Course structure
Lectures cover key principles and are delivered by experienced and research active academics in the field. You will also learn in small seminar groups, practical laboratory classes and dispensing classes. Assessment methods include examinations, time constrained tests (some web-based), assignments, essays, reports and presentations.
Biopharmaceutical Science BSc (Hons)
Msc Pharmaceutical & BioPharmaceutical Formulations
Study a degree that's well respected by industry leaders This is a demanding, competitive and rapidly changing sector, so gaining a high-quality degree that helps you stand out from the crowd is essential. Here at the University of Sunderland, four of our courses are accredited by The Institution of Engineering and Technology, which will help you do just that:
BEng (Hons) Mechanical Engineering
BEng (Hons) Automotive Engineering
BEng (Hons) Electronic and Electrical Engineering
BEng (Hons) Manufacturing Engineering
This accreditation will help make you more employable, and if you take one of our accredited courses, you will be able to fast track the process to becoming a Chartered Engineer. You can be sure of a top-class learning environment in which we will equip you with the skills and ideas needed to make an impact in the industry right away.
BEng (Hons): Mechanical Engineering
BEng (Hons): Automotive Engineering
MEng: Mechanical Engineering
MEng: Electronic and Electrical Engineering
MEng: Manufacturing Engineering
BSc (Hons): Tourism Management
Duration: 3 / 4 years (Optional Placement Year) Fees: £12,000 per year Intake: September
BSc (Hons) Tourism Management gives you a fundamental understanding of theories relevant to successful tourism management. You will develop sought after skills within this growing industry and for future academic study. Your studies will help prepare you for an exciting and fulfilling career. You will have the opportunity to visit some great locations on field trips and you will also have the opportunity to gain invaluable work experience on an optional paid industrial placement.
Why Sunderland
Our Hospitality, Leisure, Recreation and Tourism courses ranked 1st in the country for Teaching Quality and Student Experience in the Times and Sunday Times Good University Guide 2020
Sunderland Hospitality, Event Management and Tourism courses are ranked 2nd according to The Guardian University league tables 2019
Tourism Hospitality and Events courses received a 98% overall satisfaction rating in the 2019 National Student Survey (NSS) Teaching enriched by 'world-leading' research, according to the latest Research Excellence Framework (REF)
93.4% of graduates are in employment, further study or training within six months of graduating, according to DLHE 2016/17 (based on full-time, first degree, home leavers)
National and international work experience opportunities
Study abroad opportunities and field trips
Available as 4-year sandwich course, on which you can engage in a one year industrial placement All students on this course are eligible to register for the Institute of Hospitality Education Membership Scheme
Tourism, Transport and Travel courses are ranked in the top 5 in the UK for Teaching on my course, Learning Opportunities, Assessment and Feedback, Learning Resources, Learning Community and Student Voice according to the National Student Survey 2019
BSc (Hons): International Tourism and Hospitality Management
BSc (Hons): Tourism and Aviation Management
MSc: Tourism and Hospitality
MSc: Tourism and Aviation
To get in touch with our expert team, simply leave your details below and we'll call you for a FREE consultation.