Authorised education agent for: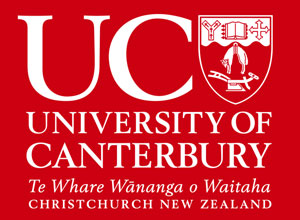 TOP 1% OF THE UNIVERSITIES IN THE WORLD
QS WORLD UNIVERSITY RANKINGS
UNIVERSITY OF CANTERBURY
UC teaching and learning standards are world-class. UC is in the top 1% of the world's universities and is known for its high-quality degrees, research-led teaching, and modern facilities. There are over 120 programmes to choose from.
Develop the skills and experience based on what the employers are looking for. UC student internships, work placements, industry and community connections will help you get ahead in your chosen career.
UC is a diverse and dynamic place to be with more than 100 nationalities and over 160 student clubs represented on campus. UC campus is located in a thriving city near beaches, mountains, and endless adventure.
The university campus was initially based in central Christchurch, but it was moved to the green suburb of Ilam in 1975. The Ilam campus is situated approximately 5 km from central Christchurch city. It is surrounded by expansive green spaces and the Avon River flowing adjacent to the University 
Drive adds to the physical beauty of the campus. Spread across 190 acres, the university campus includes lecture theatres, laboratories, computer suites, studios, and four libraries with 24×7 accessibility. 
There are 10 residence halls on the campus that accommodate nearly 2,279 students. In addition, there are about 15 bars, eateries, and cafes within the campus.
WHY UNIVERSITY OF CANTERBURY?
Waikato's Faculty of Education rates no. 1 for educational research in New Zealand.
Waikato consistently place in the top 100 for education in the international QS subject rankings
Waikato's researchers contribute to areas such as teacher education, special education, educational leadership, counsellor education and sport and leisure studies. Waikato's graduates establish successful careers in New Zealand and overseas. Waikato Faculty of Education offers a supportive and friendly environment and provides graduates with an education that is first-rate.
UC Academic
UC is ranked in the top 1% of universities worldwide and our graduates help shape the world we live in.
UC Enterprise
Many UC courses offer hands-on experience in the workplace, helping you to make connections that count in the real world.
UC Community
UC students are heavily involved in the community, and are playing a vital role in Christchurch's resurgence
UC Bicultural
Gain bicultural experiences and perspectives to feel confident and competent in a multicultural world.
UC Global
UC has exchanges with over 50 universities worldwide, and their unique Erskine Fellowship programme brings 75 international academics each year to teach at UC.
UC Support
UC has a dedicated support system to help you find your way and make the most of uni life.
UC Active
UC sits on the doorstep of a massive outdoor 'playground', features a thriving students' association and has over 130 amazing student-led clubs.
Subjects in the top 200
QS World University Rankings by Subjects, 2019
Accounting & Finance, Civil & Structural Engineering, Earth & Marine Sciences, Education,English Language & Literature
Environmental Sciences, Geography, Law,Linguistics, Philosophy,Sociology
To get in touch with our expert team, simply leave your details below and we'll call you for a FREE consultation.

What our students say about us
Don't just take our word for it, check out what our satisfied students are saying about us