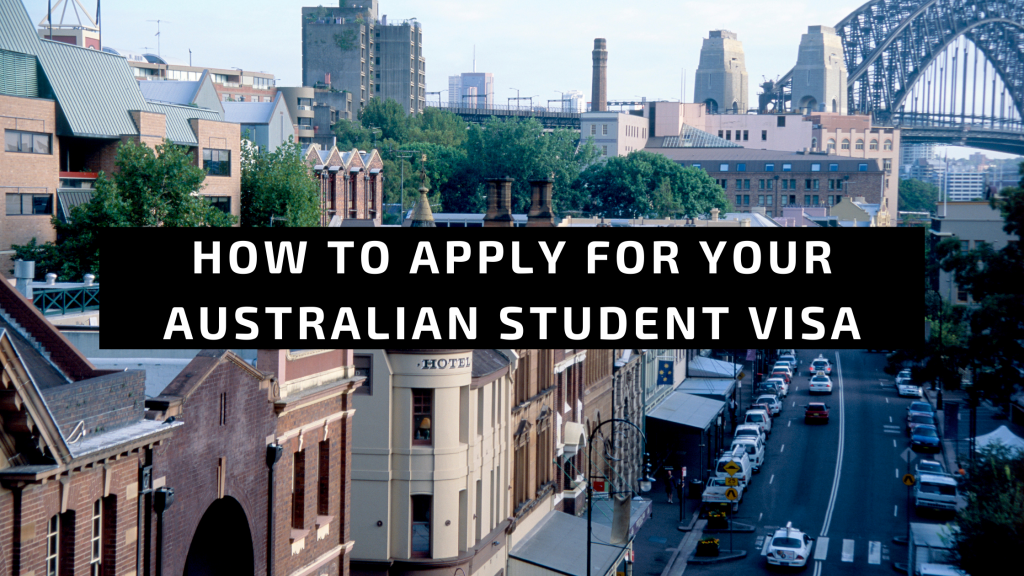 How To Apply For An Australian Visa For International Students?
Know How To Get An Australian Student Visa?
Studying in Australia is a great way to boost your career and pursue prominent education leading institutions. In order to avail student visa and study your desired course at your dream college.
The student visa allows students to take part in a qualified course of study in Australia, globetrot in Australia and gain valuable experience by working up to 40 hours every 2-week period. The visa costs around AUD620. Th this blog we can see the way to apply for an Australian Visa for International students. 
Are you eligible?
While you are applying for an Australian visa, you must be registered in a course of study and provide verification through the confirmation of enrolment. Enrolment in a full-time course that is exhibited on the Commonwealth Register of Institutions and Courses for Overseas Students (CRICOS). It is essential to include corroboration of enrolment in the study with your student visa application to get an Australian student visa.
It is important to have adequate welfare arrangements, if you are 18 then fill questions 1 to 8 in Form 157N Nomination of a student guardian to your application, have your legal custodian or parent sign the form and attach the form to your application to apply for an Australian Visa for International students. If you are below 18 then, nominate a student guardian, organize a Confirmation of Appropriate Accommodation and Welfare (CAAW) and arrange acceptance of your welfare arrangements from the relevant minister to get an Australian student visa. 
You must not enter Australia before your welfare arrangements start. This is a condition of your visa. If you breach your visa conditions, we might cancel your visa. You must not travel to Australia until your welfare arrangements start and you must not change your arrangements without the written approval of your education provider. 
English language skill evidence might be required at any time while they are processing the application. You must procure a determined test score in the English language test that the department has approved. In IELTS the minimum score is 5.5, TOEFL's is 46, Cambridge English: Advanced is 162, PTE Academic is 42 and Occupational English test's minimum grade is B for each component. These are the minimum overall band scores to be attained to meet the Australia student visa English language requirement.
Family members and you must have adequate health insurance if your visa has been granted and want to study in Australia visa. It must be sufficient for the whole of your stay in Australia. Unless an exemption applies, it is mandatory to be covered by overseas student health cover from an authorized health insurance provider. The overseas student health can be obtained by finding an approved provider and paying for the policy. Australia venerates one of the best health standards in the world, which makes it crucial to meet their health requirement. 
It is vital to pass the character test and be of an acceptable character to study on an Australian visa. The character requirements are set out under section 501 of the migration act 1958. You must sign the Australian values statement that validates you will respect the Australian way of life and obey Australian laws to apply for an Australian Visa for International students. The applicants must show they are coming to Australia temporarily to acquire a quality education to fulfill the genuine temporary entrant(GTE) and have paid back your debt to the Australian government. You might not be granted this visa if your previous visa has been canceled or your previous application has been refused.
The 'Know How's of Obtaining the Australia Visa:
Ensure to have an abundance of time to apply for your visa, avoid eleventh-hour preparations in case your substantive visa expires unexpectedly.

Garner your documents
Firstly, provide confirmation of your identity, including a certified copy of your national identity card, birth certificate, or driver's license to apply for an Australian Visa for International students. It is crucial to hand in a confirmation of enrolment letter that verifies evidence of intended study and verification that you meet the Genuine Temporary Entrant requirement for a student visit. If you are embarking on research in Australia, affix a copy of your research(project/thesis)topic and curriculum vitae.
Choose your country of passport and Academic provider to get a precise document checklist. In case, you do not have a provider yet, then choose the option 'I have not decided on a provider yet'. The checklist will direct you in terms of what is required and if it asks to provide evidence of a certain thing, choose 'show steps' to follow what kind of evidence they might accept.
The document checklist tool is updated twice a year on 31 March and 30 September, make certain to re-check the document checklist just before you submit it.
It's mandatory to apply for a visa online. When you are applying you can be in or outside Australia.
Finally, the Australian government will let you know about their decision and inform you of your visa grant number, visa expiry date, visa conditions. 
Australia boasts an excellent higher education system with over 1,100 institutions and 22,000 courses. If you are looking for a resource to help you out to apply for an Australian Visa for International students, do connect with AECC Global to give wings to your dreams for studying abroad. To help you get familiar about living and studying in Australia, why don't you check our blog on the Cost of study in Australia'.
---
By accepting you will be accessing a service provided by a third-party external to https://www.aeccglobal.co.th/