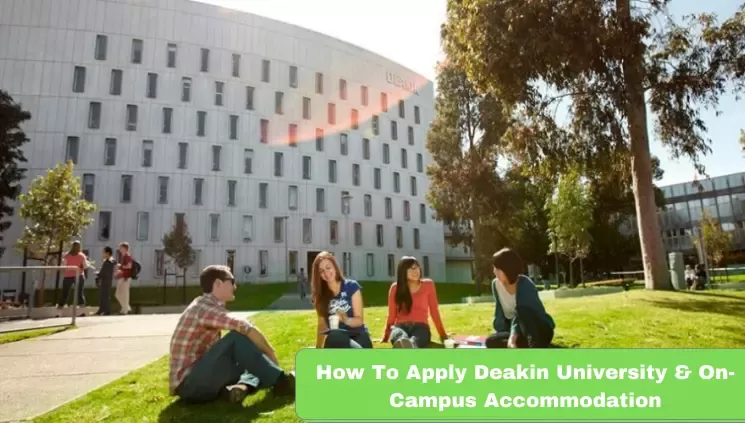 How to Apply For Deakin University & On-campus Accommodation?
How To Apply For Deakin University?
Established in 1974, Deakin University is one of Australia's leading universities, renowned for its unique experience enhanced by world-class initiatives and cutting-edge digital engagement. Deakin University is home to over 15,000 international students from over 120 countries. It fosters an environment that is enriched with social, cultural, economic and environmental wellbeing.
Ranked among the top 1% of universities worldwide, Deakin University is also one among the top 50 young universities in the world. For the tenth year in a row, Deakin's international students have reported the highest level of overall student satisfaction among universities in the Australian state of Victoria.
Planning to enrol here to study in Australia? Here's what you need to know while applying for a course at Deakin University!
As a first step towards applying to Deakin University, choose the right course that would fit you and the campus you would like to pursue your degree at. Make sure to go through the course descriptions and admission intake dates.
Make sure to have the documents listed below, as it is necessary to support your documentation while applying for Deakin University. If there are any objections your application may be delayed or rejected.
Present certificates of achievement
Transcripts of academic performance
Official identification documents (passport)
Documents written in languages other than English must be translated. If you are applying for a Deakin University scholarship, ensure that you have all of the necessary supporting documents.
On all of your documents, add your Deakin University scholarship applicant ID (if applicable), full name, and contact information.
Submit all supporting documents by the deadline.
Examine your supporting documents and double-check the information you provided in your application.
Ensure that your supporting documents are as specific, certified, and up to date as possible.
Do not send your documents in presentation folders or binders.
Submission of Application
Once you're ready with the documents mentioned above, you can submit your application through AECC Global.
If your application to Deakin is accepted, you will be sent an offer letter to start your future at Deakin University.
On-Campus Deakin University Accommodation
Deakin University provides an opportunity to live on campus while you are studying. The on-campus accommodation at the university is known for its extensive orientation and transition programs, diverse cultural and social activities that make your routine a blissful experience inside the campus. The university offers accommodation at all four campuses.
1. Melbourne Burwood Campus Accommodation
The Deakin university accommodation at Melbourne Burwood Campus is surrounded by beautiful greenery and houses 1175 students. Students in Burwood can enjoy a unique Melbourne lifestyle with a wonderful blend of state-of-the-art sophisticated student housing and a traditional village lifestyle.
2. Geelong Waurn Ponds Campus Accommodation
The campus, home to over 1000 students, is just a short drive from the magnificent surf coast and Great Ocean Road. It is only15 minutes from Geelong's CBD and is the ideal campus to have a one-of-a-kind educational experience.
3. Geelong Waterfront Campus Accommodation
The Deakin university accommodation's Waterfront Residence and Brougham House are located right in the heart of Geelong's CBD, close to Deakin's Waterfront Campus and minutes from Geelong's stunning Eastern Beach.
4.Warrnambool Campus Accommodation
While living on campus at Warrnambool, you will experience the serenity of regional Victoria. Living on the banks of the magnificent Hopkins River means that taking leisurely morning walks or going for a fish before class is usual.
Want to know more about applying to Deakin University & on-campus accommodation? Curious to know all about the advantages of studying at the university? Contact us now, and our expert counsellors will guide you through the application process.
---
By accepting you will be accessing a service provided by a third-party external to https://www.aeccglobal.co.th/