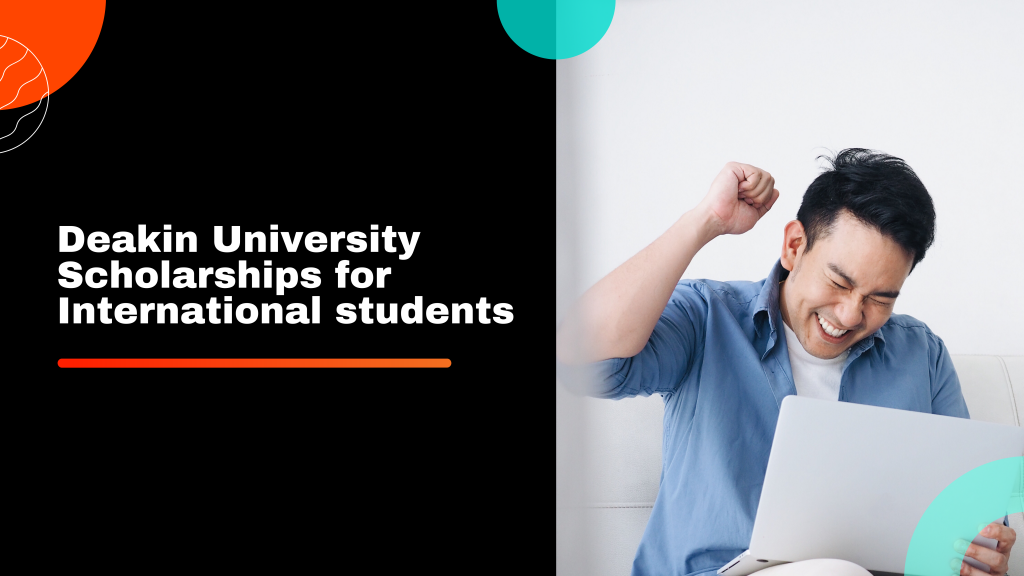 Deakin University Scholarships for International students
Deakin University
A premium University situated in one of the most popular study destinations in the world – Australia! 
As one among the top 1% universities in the world, Deakin's students are a proven accreditation to the University's rankings. Moreover, the University ranks in the top 1% worldwide for 21 subject areas! How cool is that?
With their high-rated tech equipment/resources, Deakin also offers career service, which the Australian Association of Graduate Employers (AAGE) has ranked #1. 
The students' commendation on their University experience has brought recognition to Deakin so much, that the University is ranked #1 in the 2019 Student Experience Survey (based on undergraduate students). 
Additionally, the University has also ranked #1 university in Victoria for student satisfaction from 2010-2015 according to Australian Graduate Survey, and from 2016-2019 by the Graduate Outcomes Survey (GOS). 
This just proves how important a student's journey to attain their career ambitions is to the University. To further support international students, Deakin University has numerous scholarships. And who doesn't want a scholarship, right? 
Read on to know more about the scholarships the Deakin University offers.
Scholarships by Deakin you just can't miss!
Obtaining a scholarship is in a way the University's nod of recognition of your efforts and knowledge. Opening doors of opportunity to international students, Deakin University offers many scholarships. Listed below are a few of them you simply wouldn't want to miss.

1. A degree-wise scholarship
Be it an undergraduate degree or a Masters degree, if you want a scholarship for the degree you are pursuing, you got it at Deakin.
Aiming to help those students based on their degree they are undertaking, the University is offering many scholarships on this basis, for international students like the Masters of Law (LLM) Scholarship, PhD Scholarship – Research Training Program (RTP) and the Deakin University Postgraduate Research Scholarship (DUPR).
The RTP Scholarship is a Government funded scholarship, while the DUPR scholarship is funded by the University itself.
Obtaining these scholarships is a huge plus to your profile and particularly those pursuing their PG degrees as it helps in reducing your overall fee.
2. A course-wise scholarship
Pursuing your passion in a whole other country requires courage, determination and an assurance of success. This scholarship Deakin offers you for the course you undertake serves the purpose of motivating you to achieve your dream career. 
Some examples of a course-wise scholarship are the Master of Business Administration Global Leader Scholarship, and Master of Laws (LLM) Scholarship.
3. Solely International
As an expression of value and consideration of international students, Deakin offers unique scholarship opportunities for international students alone.
These scholarships are a great opportunity to use the 'international student status' to your advantage. 
Deakin University also offers exclusive scholarships for students from certain parts of the world such as India and South Asia. 
The scholarships are a recognition of students' consistent academic achievements and the potential to make a major contribution to the university. Some scholarships include the Deakin Vice-Chancellor's International Scholarship, Deakin International Scholarship, and the International Vice-Chancellor's Scholarship – 100%.
In consideration of the current circumstances, apart from promising airport pickups, safety and security and advice if needed, the University is offering a scholarship only for this reason: the Deakin International Meritorious 25% Scholarship!
4. Scholarships for Research
Research is an important part of Deakin's curriculum. The University's commitment to contribute to the world's solutions can be seen by the nurturing of its students to innovate and invent. 
For this reason, they also offer scholarships to encourage students to pursue diving deeper into a particular subject. 
Their research is done in different and unique avenues. Don't be surprised to find unique scholarships that are for a particular research project. 
Some scholarships for Higher Degree Research are the 'HDR Scholarship – Validation of quality assurance tests for two-part epoxy coatings' and 'HDR Scholarship – Next generation high power energy storage: exploring ionic-organic hybrid electrolytes for prototype sodium-ion capacitors'.
Scholarships from the Australian Government
Besides the scholarships provided by the educational institutions, the Government provides scholarships to support international students as well.
The three main scholarships the Government offers to help international students are the Australia APEC Women in Research Fellowship, Australian Government Research Training Program and the Destination Australia Scholarships for International students.
These scholarships mainly aim to encourage students to either study abroad in Regional Australian universities, which are home to some top universities, and to support those interested in research and also to particularly support women's research.
You can check out the scholarships for international students going to study in Australia for more information on this subject.
It is indeed exciting knowing that you have the support from your institution and the country itself, to pursue your studies abroad and build your career in Australia. For any help or guidance you may require, you can always contact us! We at AECC Global, are happy to help!
---
By accepting you will be accessing a service provided by a third-party external to https://www.aeccglobal.co.th/