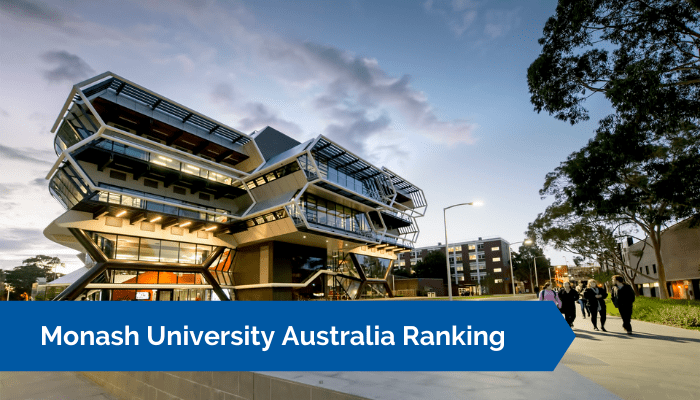 Monash University Rankings Worldwide
Located in the beautiful coastal city of Melbourne, Monash University has been the dream university for thousands of students globally, over the last few years Monash University ranking has also gain a great height. Monash University has successfully ranked in the top 1% of world university rankings by QS, Times Higher Education, and many other reputable organisations year after year. 
Did you know? Apart from having several campuses across Victoria and Australia, Monash University has international campuses in Malaysia, India, China, and Italy as well. 
Monash University is part of Australia's Group of 8 (Go8) universities and is recognised globally for its excellence in research and teaching.  The institution is also one of the leading universities in the world for research and development.
It is noteworthy that Monash is one of the very few universities globally to have been accredited by agencies AMBA (Association of MBAs), EQUIS (EFMD Quality Improvement System), and AACSB (Advance Collegiate Schools of Business). Besides, It is the only business school in Victoria that boasts of a triple accreditation.
Monash University World Ranking 
Monash University has consistently ranked in the top 100 universities by various organisations. The intriguing fact is that the Monash University world ranking is getting better every year! 
Times Higher Education Ranking
Monash University ranked 84 in the 2019 ranking by THE. In 2021, Monash University ranking was at 64 in the global. As we can see, progressive growth of Monash University world ranking which is steady and consistent! 
QS Monash University Rankings
According to the QS ranking in 2019, Monash was ranked 59th. Now, in 2021, they are ranked 55th. Monash University also ranked well among graduate employability, which is considered a notable parameter for the overall ranking. 
Other Monash University World Rankings
Monash has been ranked number 3 by CWUR (Center for World University Rankings), 3rd by ARWU (Academic Ranking of World), and the US News Rankings ranked Monash University as the 4th best university in the world. 
From constantly upgrading its faculty, campus, and syllabi to ensuring global competitiveness, quality, and recognition, Monash University stays on top of its game!
Top Courses To Pursue From Monash University
Monash University offers over 10,000 courses for students ranging from social sciences to clinical medicine. Based on Quacquarelli Symonds (QS) World University Rankings by Subject 2020, we have carefully selected the top courses for you to choose from with subject-specific global rankings:
| | |
| --- | --- |
| Stream of Study  | Global Ranking  |
| Pharmacy and Pharmacology | 2 |
| Engineering- Mineral and Mining | 7 |
| Education | 12 |
| Nursing  | 14 |
| Performing Arts  | 20 |
| Engineering- Civil and Structural | 21 |
| Engineering- Chemical | 29 |
| Anatomy and Physiology | 30 |
| Philosophy  | 30 |
| Medicine  | 31 |
Want to study in this world-class university? Got more questions on Monash University ranking and it's study opportunities,
Connect with our expert counselors
for your study abroad consultation and guidance!
---
By accepting you will be accessing a service provided by a third-party external to https://www.aeccglobal.co.th/